Msgr. Frank Lane addresses the Serra Club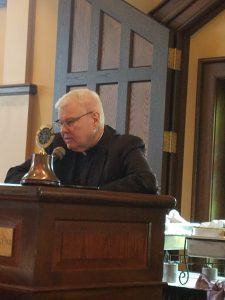 Our annual Day of Reflection, held at the Pontifical College Josephinum's Jessing Center, was led by Msgr. Frank Lane. He presented two insightful talks, as well as a homily during Mass in the newly renovated St. Turibius Chapel. With over 25 members and two dozen guests present, the Club also acknowledged Msgr. Lane's recent 50th Jubilee of his ordination.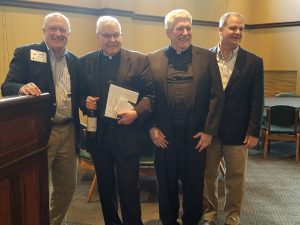 In celebration of Msgr. Lane's 50th Jubilee, Serrans Frank Hartge, Fr. Jeff Rimelspach, and Bill Messerly present him with gifts.
New Officers inducted
The Day of Reflection also saw the induction of new President Rosemary Finneran, Secretary Mary Ann Kent, and continuing as Treasurer, Frank Hartge.