Serran Vocations Crucifix Inspires Students to Pray About and For Vocations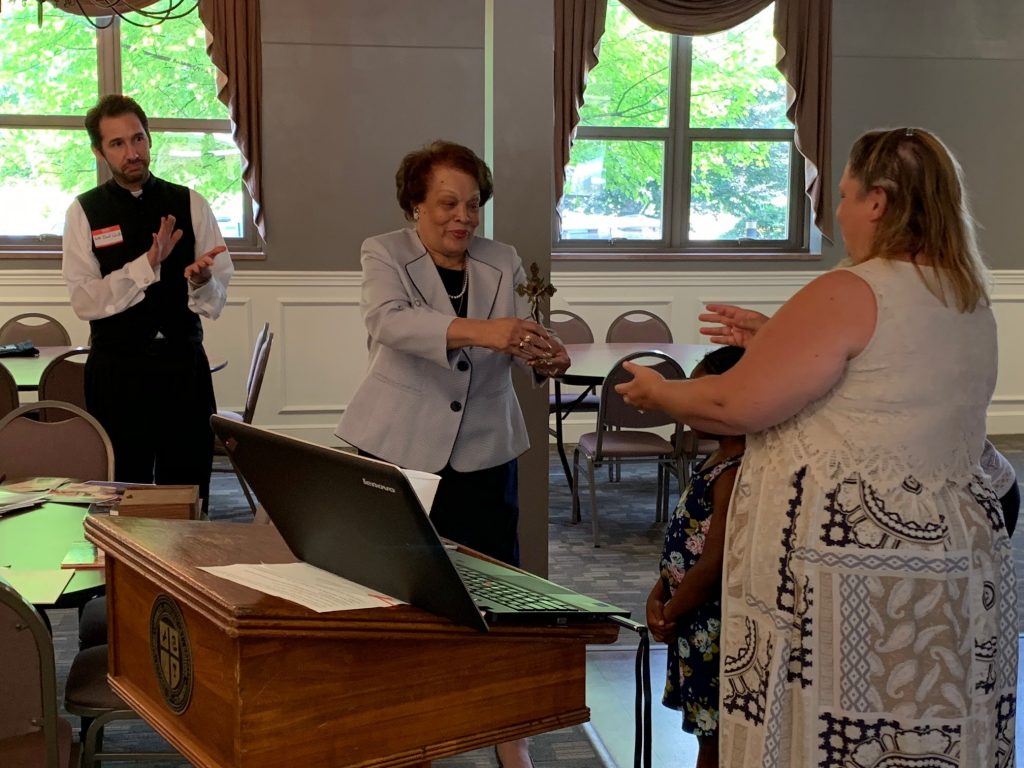 The Serra Club of Downtown Columbus presented their first Serran Vocations Crucifix to All Saints Academy at the Club's lunch meeting on July 12, 2019 at Saint Charles' Cavello Center.
Father David Schalk,  Pastor of Christ the King  Church, blessed the crucifix. It was then presented to  Mrs. Laura Miller, the Principal of All Saints Academy, by Serra Club President  Mrs. Virginia Hardy and  Mr. Tom Murphy, President-elect. Music Teacher Mrs. Liz Carle  and 3rd  grade student Iyonna Godfrey accompanied Mrs. Miller for the presentation. 
The Serran Vocations Crucifix comes with a prayer program for students that encourages them to pray for their vocation, to be open and follow God's will for what He calls them to be.
The Downtown Serra Club launched their Serran  Vocations Crucifix  program in July 2018, with a Crucifix blessed by Thomas Cardinal Collins, Archbishop of Toronto, who serves as the Episcopal Adviser to Serra International. During Eucharistic Adoration, the crucifix had been touched to a relic of Saint  Junipero Serra at Serra's International Convention in Nashville. Club members Chester and Virginia Hardy, who attended  the Convention, donated the beautiful crucifix to the Club. The Serran Vocations Crucifix program has been  well received among club members, schools and wherever it has been  shared.
Regional Director Addresses Club
Gino Dimattia, Great Lakes Regional Director of Serra, was the featured speaker at the July 12 luncheon meeting. He shared the story of Saint Junipero Serra, describing the challenges and successes of his life as a missionary. Mr. Dimattia also related the story of the founding  of the first Serra Club in 1935 in Seattle, Washington. He also described the current  programs and efforts in which Serra  engages the mission of  fostering  vocations to the Priesthood,  Diaconate and  Consecrated Religious Life.
To attend a meeting or learn more about the Downtown Serra Club, contact  the Membership Officer at  carl@faehnle.com