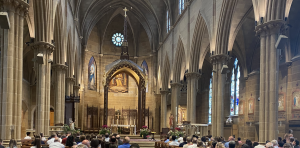 Sunday, May 1 the Serra Club of Columbus held it's 59 Annual Altar Server Award Ceremony at St Joseph Cathedral in Columbus, Ohio. Msgr. Stephan Moloney presided over the ceremony. During his homily he remarked proudly that he had received this award 52 years ago – and he is still proud of it.
There were 62 awardees – all 8th grade student altar servers and their parents and family present from the Diocese of Columbus, Ohio. It was a great day for all.
Over the years, we have heard many testimonials from Priests who won this award and were inspired to discern the religious vocation. Also many young ladies go on to be devout in their faith and love for Jesus Christ.
The Serra Club of Columbus would like to thank the Catholic Foundation for their donation and assisted sponsorship which helped make the Altar Server Award Program possible.